Gage Bilt Pneudraulic Rivet Guns | GB722 | HUCK-STYLE RIVET TOOL
Item # GB722
HUCK-STYLE RIVET TOOL
Item # GB722
HUCK-STYLE RIVET TOOL
GB722 pneumatic-hydraulic tools are designed to install of a wide range of blind rivets and lock-bolt fasteners. GB722 rivet guns weigh 5.50 lbs. (2.49 kg) and can be operated in any position with one hand. It has a .590" (15.0mm) rivet setting stroke and a rated pull load of 4700 lbs (20.9 kN) with 90 psi (6.2 bar) air pressure at the air inlet.
Gage Bilt GB722 rivet installation tools operate on 90 to 100 psi (6.2-6.9 bar) of air pressure providing the maximum efficiency. At 90 psi (6.2 bar) of air pressure, the GB722 does not exceed 81.5 dB (A) and consumes 3 cfm at 20 cycles a minute.
The air inlet is provided with 1/4-18 female pipe thread to accept the users air hose fitting.
3/16" (4.8) and 1/4" (6.4) C6L®, Avdelok® and Magna-Grip®, Maxlok® lockbolts
3/16" (4.8) and 1/4" (6.4) Avex® multi-grip blind rivets
3/16" (4.8) and 1/4" (6.4) Monobolt® and Magna-Lok® structural rivets
3/32" (2.4) thru 1/4" (6.4) standard blind rivets
GB722 is compatible with nose assemblies LB06-722-20, LB08-722-20.
Nose assemblies are sold separately.
APPLICATIONS:
Blind rivets thru ¼" all materials
Blind bolts thru 3/16" all materials
Multi-Grip Lockbolts thru ¼" all materials
SPECIFICATIONS:
Accepts ¾" diameter GB and Huck® noses
Load: 4,700 lbs.
Stroke: .590"
Customers Also Bought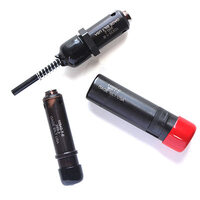 LB06-722-20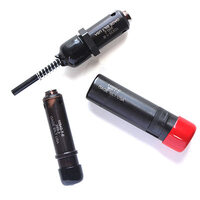 LB08-722-20
This website uses cookies to ensure you get the best user experience. By continuing to use this site, you agree to our privacy policy.