Gage Bilt Power Units | GB912 | AIR-OPERATED POWER SOURCE
Item # GB912
AIR-OPERATED POWER SOURCE
Contact Sales for Price
Available: 0
Contact for ETA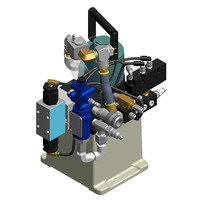 Item # GB912
AIR-OPERATED POWER SOURCE
The GB912 Powerunit is a portable, air-operated hydraulic power source designed to operate Gage Bilt hydraulic installation equipment. It is also compatible with HUCK® hydraulic installation equipment.
GB912 Powerunits operates on 90 - 100 psi. (6.2-6.9 bar), using 40 cfm @ 100 psi. (6.9 bar). The minimum hose recommended is ½" ID. GB912 Poweunits are compatible with GB2620 and GB2620A installation tools.
For the protection of the equipment and operator, an internal relief valve is pre-set at the factory. As shipped by the factory, the external relief valve Pull pressure is set at 6,000 psi (41,370 kPa) & Return pressure 2,400 psi (16,547 kPa). The pump is equipped with a handle to ease the transferring of the GB912 Powerunit to various sites.
Specifications:
Compatible with GB and Huck® electric/hydraulic installation tools
Hose kits & accessories available
Pressure adjustable from 1,000 to 10,000psi
Weight: 46.5 lbs. with oil
Air pressure req'd: 90-100psi
Air consumption: 40 cfm @ 100psi
Hydraulic oil: AW-32 or equivalent
This website uses cookies to ensure you get the best user experience. By continuing to use this site, you agree to our privacy policy.