Gage Bilt Power Units | GB940 | ELECTRIC POWER SOURCE
Item # GB940
ELECTRIC POWER SOURCE
Contact Sales for Price
Available: 0
Contact for ETA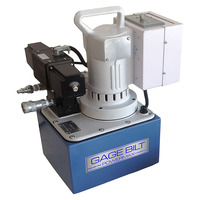 Item # GB940
ELECTRIC POWER SOURCE
GB940 Hydraulic Powerunits are light-weight, portable power sources that are designed to operate on a wide range of hydraulic installation tools. GB940 powerunits are electrically powered and deliver up to 10,000 psi working pressure with simple adjustable hydraulic outputs. GB940 Powerunits are compatible with the GB7624 and GB624A hydraulic installation tools.
The 24 volt remote control circuit, in the installation equipment, controls the pump output directional valve. The GB940 Hydraulic Powerunit is available in 115 volt or 230* volt, single phase, alternating current. Output pressures as shipped are: PULL 5400-5700 psi, RETURN 2200-2400 psi.
GB940 Hydraulic Powerunits are available separately or in kits including hydraulic quick-disconnect couplers, electrical connectors and hose cord kits in various lengths.
Specifications:
Compatible with GB and Huck® electric/hydraulic installation tools
Hose kits & accessories available
Pressure adjustable to 10,000psi
Flow: 70 cu. inch/min @ 5,000psi
Power: 115V, 50/60hz, single phase AC
Weight: 66 lb. without oil
Height: 18.1"
Width: 10.5"
Length: 12/5"
Hose Kit Options:
GB940-12 includes the GB940 Powerunit and 12 ft. Hose Kit, part #940701
GB940-26 includes the GB940 Powerunit and 26 ft. Hose Kit, part #940705
GB940-38 includes the GB940 Powerunit and 38 ft. Hose Kit, part #940709
GB940-52 includes the GB940 Powerunit and 52 ft. Hose Kit, part #940714
This website uses cookies to ensure you get the best user experience. By continuing to use this site, you agree to our privacy policy.