Gage Bilt Hydraulic Rivet Tools | GB2581 | HUCK-STYLE RIVET TOOL
Item # GB2581
HUCK-STYLE RIVET TOOL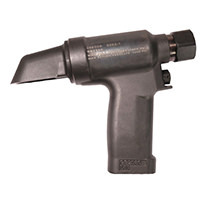 Item # GB2581
HUCK-STYLE RIVET TOOL
The GB2581 hydraulic installation tools are used to install blind fasteners, lockbolts and Magna-Grip® fasteners measuring thru 3/8" diameter. GB2581 rivet tools weigh just over 6.6 lbs. (2.99kg) and can be operated in any position.
Gage Bilt GB2581 rivet guns have an 1.000" (25.4 mm) rivet setting stroke and rated pull load of 10,700 lbs. (47.59 kN). The GB2581 operates on hydraulic pressure developed by the GB940 Powerunit set at 7,400 psi (510.2 bar) max PULL pressure and 3,200 psi (220.6 bar) max RETURN pressure. The tool comes equipped with 12 ft. (3.65 m) hydraulic hoses and couplings, electric switch and cord.
GB2581 tools are used with nose assemblies: BOM08-755A-23, BOM10-756-26, HT12-756-23, LB10-756-26, LB12-756-26, MG10-756-28, MG12-756-28, MGL10-353-28, NAS08-2581-23 and more. See the GB2581 nose assembly chart for more options.
The GB2581 is compatible with the GB940 Powerunit. GB2581KS Service Kits also available.
Nose assemblies and Powerunits are sold separately.
Specifications:
Operates with electric actuator using GB940 Powerunit
Compatible with Huck® Powerunits
Max. rated pull load: 20,650 lbs. @ 7,000psi
Weight: 6.00 lbs.
Hyd. Pressure req'd: 7,400psi (510.1 bar) max pull
Hyd. Pressure req'd: 3,200psi (220.6 bar) max return
Setting stroke: 1.000" (25.4mm)
Rated pull load: 10,700 lbs. (47.59kN)
Standard hyd. hose length: 12 ft. (3.65mm)
Applications:
5/32" – 3/8"
GP®
LGP®
NAS
BOM®
LD AVDELOK®
MAGNA-GRIP®
This website uses cookies to ensure you get the best user experience. By continuing to use this site, you agree to our privacy policy.